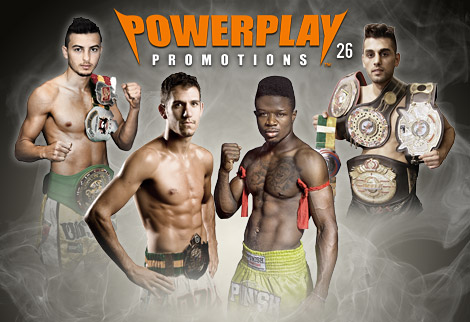 The 2nd of May saw Joe Nader of Powerplay Promotions again put together another captivating show, hosted at the stylish Melbourne Pavilion venue. The final two main event fights had the spot light on them as two exciting contests were on the card to battle it out.
The much anticipated semi-main event fight which consisted of, two of the brightest young Muay Thai talents that Australia has to offer, Moulay the 'rockin morocan' Bekkali and Ramesh 'headhunter' Habib. The contest had every member of the audience at the edge of their seats, with the fight failing to disappoint its huge expectations. The atmosphere from the crowd was as loud throughout the whole night, as the two exciting young talents showcased their skills. Both fighters didn't waste any time in stamping their intentions on the fight, with both Moulay and Ramesh exchanging heavy blows as leg kicks and punches were thrown by both men.
Though as the fight progressed into the second round of a scheduled five round fight, it was Moulay that had the fans shouting his name as he asserted his dominance on the battle, with a deadly mixture of combinations of kicks and punches dropping Ramesh. From there Moulay was able to continue his dominance, preventing Ramesh to use his renowned acrobatic head kicks which has contributed to his successful record of 16 wins from 22 fights. Though on this occasion it was Moulay that stole the show as the 'Rockin Morocan', walked away victorious with a close unanimous points win, taking his record to 17 wins from 20 fights.
The Main event fight had all the ingredients for another fascinating battle with the fight consisting of Mike '300′ Demetriou and the exciting young star Victor 'Hot Chilli' Nagbe. Mike seemed to have the slight advantage between the two as his 180cm frame compared to Victor's 175cm saw him have a favourable height and reach advantage. Though this wasn't to be seen in the fight, as Victor's acrobatic fight skills came to the forefront which helped counter against Mike Demetriou.
The battle, started slow with both fighters getting a feel of the tie, though eventually developing into a momentum swinging contest, with Victor showcasing his acrobatic style kicks and punches. Mike remained effective with his use of quick combinations of kicks and punches.
Mike was doing well to avoid Victor's acrobatic skills as he was able to limit their influence on the tie, which even saw Victor miss a spinning back kick which sent him over the ropes and outside the ring. With both fighters wining a share of the rounds, it was always going to be a close, but tough decision for the judges, though on this occasion it was the exciting 'Hot Chilli' Nagbe who was named victorious with a point's decision. Earlier in the night, Powerplay Promotions 26 saw victories to other fellow fighters, Andrew Van Der Poel, Tristan Papadopoulis, Dean Vujic, Quan Trink, Alexi Petroulias, Yann Sandie and a knockout blow which saw Luktum Tunza claim victory. Crowd favourite Rob Minniti found himself in a split draw with Tumay Hamza after a thrilling encounter which saw both fighters, exchange heavy blows, resulting in both fighters being dropped at various stages of the fight.Overall it was another successful night for Joe & Demi Nader of Powerplay promotions which again can be added to the increasing list of successful and exciting fight nights that fulfil all expectations. Now the wait is back on for the next fight night, with Powerplay Promotions 27 confirmed for Mid-August later this year.
Main Event
Victor 'Hot Chilli' Nagbe vs Mike '300' Demetriou

Andrew van der Poel vs CHRIS ANDERSON
Trista n Papa Dopoulis vs Fatih Kaya
Dean Vujic vs Lachlan Da rt
Quan Trinh vs Ben Paul
Rob Minniti vs Tumay Hamza
Alexi Petroulias vs Mael Lemarchand
Abbas Ahmadi vs Ya nn Sandie
Luktum Tunza vs Sing Siri
Moulay Bekkali vs Ramesh Habib