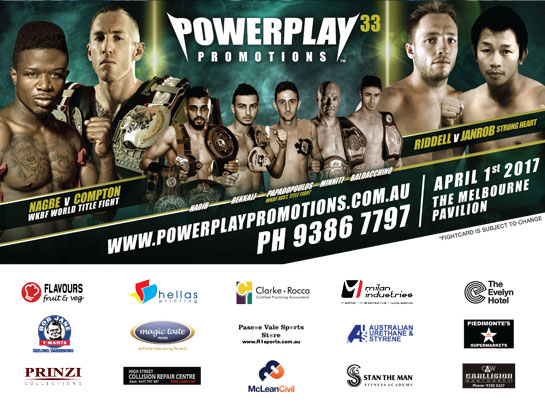 A new World Kickboxing Federation (WKBF) champion was crowned on Saturday night at the Melbourne Pavilion with Victor 'Hot Chilli' Nagbe winning a unanimous points decision over Elliot Compton in a five-round war on Powerplay 33.
With solid fight experience behind both fighters, the start to the main event saw a slow and composed pace with both using the round to gauge distance and look for weaknesses in each other's defence. Boxing combinations flowed cleanly from Nagbe, catching Compton on several occasions before Compton began firing away strong roundhouse kicks to try and keep some distance between Nagbe who was intent on walking forward. On more than one occasion in the second round both fighters were warned by the referee for catching kicks, a technique which is not allowed under K1 rules. Great footwork from Nagbe provided him an edge in the second round as he continued to land a series of punches on Compton.
The third round saw Compton pick up the pace and begin to challenge Nagbe with some quick footwork and accurate boxing of his own. Both fighters remained patient and aimed to land clean shots looking to provide style over substance in what was a tight matchup between two warriors. Compton seemed to have trouble under the K1 rules with the referee deducting a point following several warnings not to catch his opponent's kicks. Nagbe took advantage of this and begun switching his attacks, landing a series of strong knees to the body. Ultimately it was Nagbe who took the initiative on the night, doing more than enough to secure him the world title with a unanimous decision over a tough-as-nails Compton.
In the night's semi-main event New Zealand fighter Brad Riddell was able to beat Adelaide-based Thai Janrob Strong Heart in a five-round fight that saw the Thai unable to adapt to the changing rule set with the fight taking place under K1 rules. Removing some of the traditional weapons that accompany muay thai, Janrob was unable to really challenge his opponent and the first half of the fight saw Riddell landing strong attacks including several well-timed body shots. These were set up with a series of stiff jabs and powerful hooks, none of which seemed to slow the Thai down significantly but scored highly in the eyes of the judges.
Janrob was able to batter the arm of Riddell later in the fight with constant round kicks, but this did little to stop Riddell moving forward landing heavy punches to the body. The solid chin and tough exterior of the Thai helped to keep him in the fight as the body shots continued to land with an audible thud heard throughout the venue. In the end it was Riddell's ability to adapt to the K1 rule set and his picture-perfect boxing combinations that were the deciding factors with all three judges scoring it 50-45 in a unanimous decision to Riddell.
In his post-fight interview Riddell announced that he would be travelling to London in May to fight British veteran and former two-time World Boxing Council (WBC) Muay Thai World Champion Steve Wakeling.
Earlier on the card local Melbourne fighter Tristan Papadoplous put his undefeated record on the line against Sydney based Alireza Badragheh in a five-round fight for the WKBF Australian title. The early stages of the fight seemed to go the way of Badragheh who dictated the pace and constantly pushed forward on Papadoplous who seemed overly tentative. It was the third round that marked the turning point in the fight as Papadoplous was able to string together cleaner sets of combinations with a much higher work rate. Badragheh searched for the single knockout shot, but was unable to find an opening, Papadoplous taking the title with a unanimous decision.
After the main event, promoter Joe Nadar announced a 4-Man K1 tournament for the return of Powerplay 34 on Saturday July 22nd. Confirmed already are Elliot Compton, Victor Nagbe and Brad Riddell. Also invited to the event is well-credentialed international fighter Dzhabar Askerov. His participation is yet to be confirmed.
Results:
Victor Nagbe def. Elliot Compton via Decision (Unanimous) WKBF World Title 70kg
Brad Riddell def. Janrob Strong Heart via Decision (Unanimous)
Moulay Bekkali def. Josh Fitzroy via Decision (Unanimous)
Keith Azzopardi def. Steve Baldacchino via Decision (Unanimous)
Tristan Papadopoulos def. Alireza Badragheh via Decision (Unanimous) WKBF Australian 59kg Title
Ramesh Habib def. Oliver Hale via TKO, Rd 3
Chris Nguyen def. Albert Xavier via Decision (Split)
Roberto Minniti def. Ramen Habib via Decision (Unanimous)
Jayden Wright def. Francis Kombukon via Decision (Unanimous)
Richan Vischer def. Robert Majhen via Decision (Unanimous)
Ajay Gurung def. Anthony Kwok via Decision (Unanimous)
Article by Chris Quirk