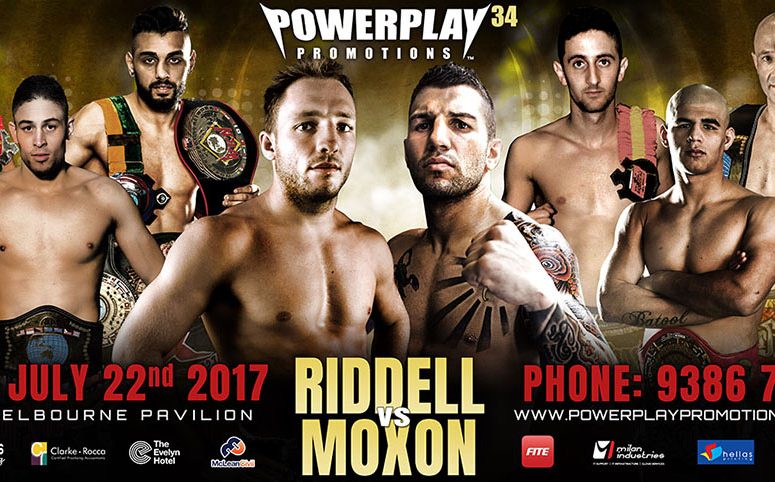 Powerplay 34 Riddell Vs Moxon
Brad Riddell returns to Melbourne to fight Steve Moxon at the Melbourne Pavilion on Powerplay 34, July 22nd 2017. The fight EVERYONE in the global fight community wants to see, knowing it will be a 5 round war of K1 action!
Also on the fight card, Aaron "The One" Goodson makes his highly anticipated return into centre ring against the tough Alex Redhead and Powerplay veteran Roberto Minniti fights Indigo Boyd for the Commonwealth Title.
A stacked card of local, National and International Fighters NOT TO BE MISSED!
Moulay Bekkali, Salvatore Signorini, Rob Morgilo, Dimitri Iliev, Tristan Papadopoulos, Mini Nacher MORE!
Results
Steve McKinnon def Joe Boobyer via Decision (Unanimous)
Nathan Robson def Huss Al Mansouri via Decision (Unanimous)
Jonathan Aiulu def Elliott Glenister via Decision (Majority)
Jayden Wright def Abdulmunim Nachar via Decision (Unanimous)
Jacob O'Connor vs Thomas Wilkins Draw
Corey Barrett def Tyrone Russell via Decision (Unanimous)