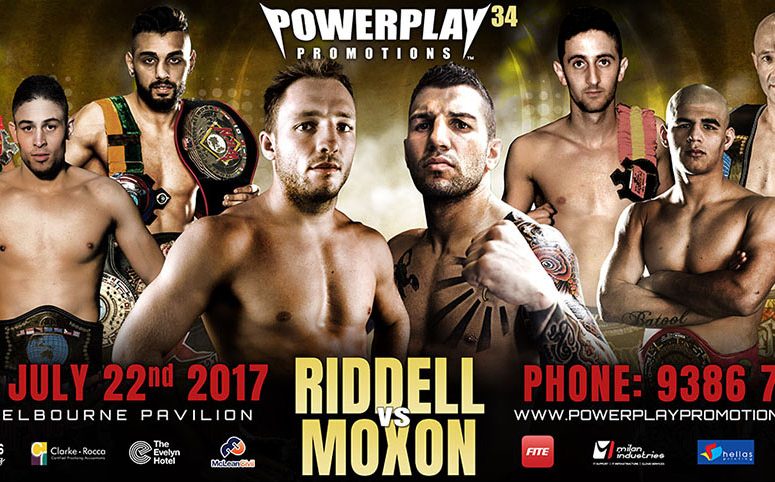 The Melbourne Pavillion was once again the centre of combat sports in Victoria last night as it played host to the long awaited rematch between New Zealand's Brad 'Quake' Riddell and 'Stone Cold' Steve Moxon at Powerplay 34. Riddell confirmed why many in the industry had picked him as the favourite, getting the best of Moxon over five rounds to take the fight via unanimous points decision.
After freely admitting that the last time the two met in centre ring back in 2014 that he had not performed to his expectations, Riddell was looking to set the record straight and confirm his place as one of the top middleweight kickboxers in the region. With the fight taking place over five rounds, both fighters played a patient game early on looking for any small weakness that could be exploited. With two world-class fighters like Riddell and Moxon the difference between winning and losing is not always how many punches you can throw or how hard you can hit, but the smaller elements and tactics such as footwork, range, timing and head movement. Riddell showed early on in round one that he had vastly improved since the two last met and as the opening round came to a close it was Riddell with the cleaner of the exchanges and a higher work-rate that set him apart from Moxon.
Not to be outdone however Moxon continually pushed the pace and gave little room to Riddell to be able to use his reach. Riddell seemed to find his range later on in the second round and picked his shots, rarely over-committing to any attack and landing himself in a bad position. Trademark heavy hands from Moxon had Riddell on the back foot at times in the third round, but Riddell's precise footwork largely kept him out of any major trouble. As the third round went on, Riddell continued to work the body of Moxon, peppering him with both step-up knees and his signature body rips.
The later rounds of the fight again proved to those in attendance that they were watching two high-classed professional athletes in the ring as both men gave it their all while still maintaining an air of composure and strategy. As Riddell pushed forward with a serious of strong high kicks, Moxon answered back with an increase in volume and accurate boxing combinations.
The opening of the fifth round saw Moxon land a clean hook flush on the jaw of Riddell who brushed it off and continued with his game plan seemingly unphased. As the fight drew to a close, it was clear that Riddell had done more than enough and just looked the more polished on the night taking the win and evening out the records between the two. With no love lost between both fighters in their, at times, tense post-fight interviews, it was confirmed in the ring that a third and final fight would be held at a later date to determine a series winner.
Back into the ring after a four-year layoff, former two-time world champion Aaron Goodson appeared to have never left the sport in his fight with New Zealander Alex Redhead in the night's semi-main event. Looking strong and opening the bout with some great combinations that had Redhead on the backfoot, Goodson kept the pressure up for most of the first round. Speed certainly didn't leave Goodson during his time off and his leg kicks and follow-up boxing were more than enough to give him the round quite cleanly.
That was all until Redhead picked his moment just before the bell, waiting for Goodson to drop his left hand slightly before landing a perfectly timed high right roundhouse kick dropping Goodson to the canvas. Unable to answer the referees call and be saved by the bell, the fight was officially stopped at 1:59 seconds into the first round via TKO giving Redhead the upset win of the night.
With the World Kickboxing Federation (WKBF) Commonwealth Title up for grabs, the crowd in attendance was treated to an absolute war between 46 years-young Roberto Minniti and Indigo Boyd over five rounds. Minniti had a distinct advantage early on with the fight taking place under K1 rules, his preferred rule set compared to Boyd's muay thai. Both fighters opened the fight with a serious of powerful punches, but it was Boyd who landed a telling right hand to Minniti's jaw as the bell went at the end of the first round. Both were looking to time their attacks to perfection and not waste too much energy, and in the second round it was Minniti who was able to stay more composed and chip away at Boyd. The strike of the round went to Boyd as he landed a crisp spinning back fist on Minniti who was momentarily stunned but recovered quickly.
As the fight went on it was evident that Minniti's jaw was rock solid and while Boyd had the higher work rate and more accurate punches, there was only a slim chance those punches were going to result in any kind of knockdown. Toughness is a word thrown around far too much in combat sports, but Minniti showed despite his age he can still mix it with the best in the ring and be a formiddable opponent for many. The fourth round saw Boyd switch his attacks to Minniti's legs as he began to slowly pick up the pace as the fight went on. The left hook of Boyd was key later in the fight and he continually landed it clean while Minniti seemed to drop down a gear in the fifth round. As the fight drew to a close both fighters went looking for the big finish, with neither taking a backwards step. Boyd continued to rally and was able to take the title via a unanimous points decision.
Coming into his fight with Moulay Bekkali on less than one week's notice, Sydney-based Dimitri Iliev was never able to establish himself following the opening bell and looked to be wobbled early on with a high head kick landing for Bekkali. Not fully recovered, Bekkali landed a subsequent head kick dropping Iliev who was unable to convince the referee that he could continue, resulting in a TKO win for Bekkali 58 secs into the first round.
Results
Brad Riddell def Steve Moxon via Decision (Unanimous)
Alex Redhead def Aaron Goodson via TKO, Rd 1
Indigo Boyd def Roberto Minniti via Decision (Unanimous) WKBF Commonwealth Title
Moulay Bekkali def Dimitri Iliev via TKO, Rd 1
Tristan Papadopoulos def Salvatore Signorino via Decision (Unanimous)
Mini Nachar def Rob Morgillo via Decision (Unanimous)
Jayden Wright def Glen Brown via TKO, Rd 2
Article by Chris Quirk