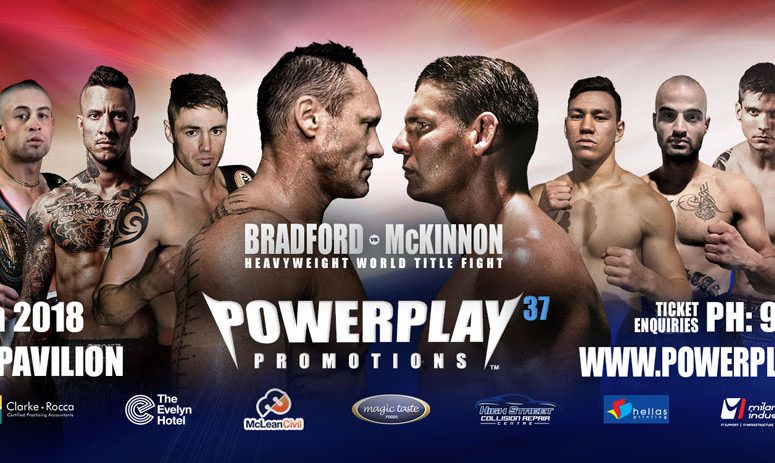 Powerplay Promotions returns to the Melbourne Pavillion for the second time this year with an intriguing matchup between the heavy-hitting Steve McKinnon (53-6-0) and Geelong-based Chris 'AK47' Bradford (22-11-0) for the International World Kickboxing Federation (IWKBF) Heavyweight title.
With the fight announced last October, both fighters have been given ample time to prepare and will come into the bout in possibly the best shape of their careers, looking to get the upper hand over the man opposite them. With 59 fights on his record and having fought on some of the best promotions around the world including Glory Kickboxing, McKinnon will come into the bout with experience on his side.
A former World Boxing Council (WBC) Muay Thai World Champion, McKinnon is no stranger to big fights and will want to add to his already impressive list of defeated opponents. His strength under K1 rules was apparent in his last bout with Englishman Joe Boobyer, where he comfortably took the bout via a unanimous points decision in the main event of Powerplay 35. With an unorthodox style and knockout power in every punch, many pundits will have McKinnon as a slight favourite going into the bout.
Not to be discounted easily, Chris Bradford will be coming into Saturday night's main event looking to prove that he still has plenty to offer the fight community in Australia. A two-time Caged Muay Thai Champion, Bradford is a fighter that has been underestimated before and proved his doubters wrong and will be looking for the same result in this fight. He comes out of retirement for this bout, having not competed since October 2016 when he won a unanimous points decision against the tough Queenslander Rob Ferguson.
A classic battle of youth versus experience takes place in the semi-main event with veteran kickboxer Steve Baldacchino (25-7-1) set to square off against Elliott Glenister (10-5-0) over five rounds for the IWKBF Australian K1 title. Baldacchino will be keen to follow up on his performance at Powerplay 36 where he was able to get the first round knockout victory against New Zealand fighter Tyson Faulkner. An impressive head kick late in the round earned Baldacchino the right to have his hand raised and he will be looking for a similar result against Glenister.
Glenister comes to the Melbourne Pavillion fresh off his own knockout victory, having stopped New Zealander Yassin Yass at Warriors Way 21 with a vicious series of body rips that levelled Yass in the second round. This will be the second K1 rules bout for Glenister in a row, with the possibility of more to come given his incredible boxing skills and ability to adapt to the limited rule set from his preferred muay thai. Since moving over to the Absolute MMA gym last year, Glenister has gone from strength to strength and a shot at one of the international promotions such as Kunlun could be well within the realm of possibility with a strong showing against Baldacchino.
A Powerplay Promotions fan favourite and with an unbeaten record, Jayden 'Wraith' Wright (7-0-0) returns to the ring on Saturday night looking to continue his successful run as he squares off against the Sydney-based Tanner Gumatsas (9-2-0) over three rounds under K1 rules. Wright last fought in March on Powerplay 36 where he earned a points decision victory over Leon Charlambous in what was perhaps his toughest fight to date. While very little is known about his opponent, Wright will be looking to stick to his proven game plan and continue his climb in the Australian kickboxing rankings.
Earlier on the card, Victorian muay thai veteran Richard Fanous (21-15-2) makes his return to the ring after having walked away from the sport two years ago. The bout, against talented up and comer Sulaiman Hashemi (12-2-1), will mark the 39th occasion Fanous has entered the ring. His last fight in November of 2016 on Rebellion Muay Thai 13 ended in a points decision loss to Abbas Ahmadi, a battle that was nominated for fight of the year at the 2016 Australian Muay Thai Awards. Hashemi, a fast-rising prospect in the lightweight division, will be looking for another win after having beaten Albert Xavier via a majority points decision in the main event of Roots Muay Thai 6 in March.
A late change to the card, Aaron Goodson (16-3-0) will now face fellow Victorian Jono Almond (11-9) in a K1 rules bout over three rounds. Goodson returns to the ring following his shock loss to New Zealand fighter Alex Redhead at Powerplay 34 in July 2017. That bout ended when Redhead landed a picture perfect head kick on Goodson with seconds to go in the first round. Goodson was originally set to fight the experienced Queenslander Bradley Traynor who was forced out of the bout due to injury.
Fight Card:
Chris Bradford vs Steve McKinnon (IWKBF World K1 Title)
Steven Baldacchino vs Elliott Glenister (IWKBF Australian K1 Title)
Jayden Wright vs Taner Gumustas
Aaron Goodson vs Jono Almond
Richard Fanous vs Sulaiman Hashemi
Marcus Burke vs Torin O'Brien