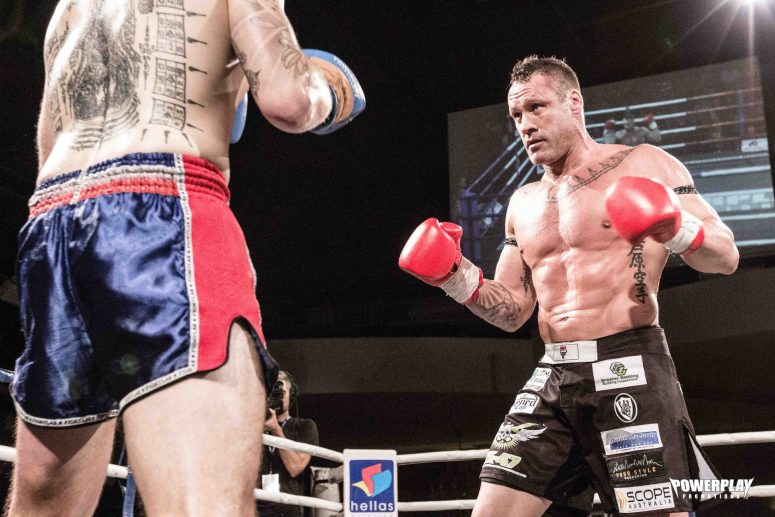 At Powerplay 40 Chris Bradford entered a contest that most punters are referring to as the biggest rematch of the year and that's crazy to think given we have only just hit March. Even though the year will no doubt produce some other cracker contests, Bradford v Boobyer II has the ingredients to be one of the all time greats.
First, back to Powerplay 39, the initial epic contest between these two warriors wasn't even meant to be. However as fate would have it, Chris's original opponent was pulled at literally the final hour and Joe stepped up. It's a gutsy move to accept a new opponent with basically no time to prepare; however it was a decision that Chris did not hesitate to make:
"I wasn't really to fussed with the change and the record of his, I have a job to do and I take it seriously. It's the same as every other time I step into the ring. I'll fight anyone they put in front of me, no matter how big a record, how big an opponent, how big of a name…
I'll… fight… anyone"
True to his mantra, Chris entered the unknown like he has some many times before and confronted the challenges that presented themselves. He's new opponent had a different style, different stance, different approach; none of it really mattered at the end of the day. Whether it was 8 weeks notice or 24 hours notice Chris approaches the contest as only a true professional does:
"To be perfectly honest I had three days notice on the change. The biggest thing was going from a southpaw to an orthodox fighter and the changes I have to make considering I've been training for so long for a southpaw. Yet a fight is a fight, and if you're experienced, you should have the ability not only physically, but also mentally also to make the changes. Who knows when you will get a phone call for a big stage fight at late notice! A challenge is something I love and keeps the blood flowing rapidly through my veins"
Now the short notice opponent change was difficult for Chris, and on the other foot taking a fight on a couple days notice was incredibly difficult for Joe. Having said that, Joe really had nothing to lose going into the first fight given the circumstances that presented themselves, that in itself can put extra pressure on Chris to get the job done:
"None whatsoever [extra pressure], with him almost having double my fights, there was no pressure on me whatsoever…. everything to gain and nothing to loose. One thing I love about this, it's the rush of an underdog. You should loose on paper, all the stats are against you, until you see in person the power of the underdogs bite!"
So the circumstances surrounding the first fight have been discussed in great length, and when the dust settled and crowd got their collective breaths back, Chris was awarded a much-deserved Unanimous Decision victory. From the commentary position Chris looked clinical; he picked his shots well, attacked the body and controlled the fight. Chris himself however was a far harsher critic:
"7/10 to be honest… I won't go into what I wasn't happy about cause we are fighting again, he's tough and strong for sure, but I'll say this…. AK has some new tools, some new angles and some new drive to finish this fight, properly"
Anyone who read the piece pertaining to Joe will no doubt recall Joe's summation of the body shots that Chris delivered on that faithful evening. From this writers perspective, words like pinpoint and brutal immediately come to mind, and the strategic nature was also recognised given the vulnerable state of his opponents preparation and associated gas tank. Chris epitomises what it is to be a strategic fighter, and the tactics at Powerplay 39 underpin that:
"I feel I have a good knowledge and ability to adjust in a fight. My mind is always comfortable with being hurt at any one time, so it helps me compute situations quicker in real time and not panic. I just seen an opening and made it a target in the muscle memory bank. They where big shots for sure and Joe did well to get up from them, however I'm even stronger now so who knows what will happen"
The power and positioning of the body shots forced Joe to the canvas on multiple occasions, and to the amazement of those in attendance Joe was able to rise on every occasion. Although an impressive victory at the end of the day, Chris was unable to land the finishing blow and put Joe away. Even for such a consummate professional, this had to be frustrating:
"Yes a little upset to be honest, I'm angry at myself, but at the same time I won't take away his heart and strength to get back up. I would have done the same if it was reversed, and same as he would, he'd be upset that I didn't execute a plan to finish it"
No highlight reel finish, but a win is a win and after 5 gruelling rounds Chris's hand was raised much to the appreciation of the respectful yet ruckus crowd in attendance. Given the all time great heavyweight contest that he'd just participated in, the feeling was very satisfying for Chris:
"I don't feel there was any ruckus, just his support crew, who where awesome and loud in the crowd, just cheering him for his valued effort in taking the fight. In my head, never write me off, never think I'm done, never think I can't win… I've proven people wrong before and I'm always a chance to do it again"
On March 23 Chris will again stand opposed to Joe in a rematch that has the collective mouths of combat sports fans watering. Given the very different circumstances preceding this fight, Chris is expecting a very different opponent:
"Joe will be fitter and stronger; he will feel more confident. That's good for the crowd and paying spectators…I've been working hard on new ideas, the legend Sam Greco has been working with me a little also, Tom Smith my pad holder has me tweaked on the pads, so the package I deliver on the night will be new, strong and definitely damaging"
Given on this occasion Chris has had plenty of time to prepare for the fact that Joe will be standing opposite him in the ring, he'll also have the opportunity to actually prepare for the man that he'll face. That in itself will provide Chris with the opportunity to change things up a little and ensure he's ready to go come March 23:
"Last time we fought, for the whole 8 week fight camp, I sparred 2 times. This time I'll have a lot more sparring under my belt and being active time in the ring. Injury is reasonably low so far, so I am going to be well prepared for this one!"
Adding even a little more spice to this one (as if it needed it) is that fact that a World Title will be on the line and should Chris get the job done as he plans he'll earn the right to have that belt draped over this shoulder. The title would be oh so sweet, but when it's all said and done Chris fights for so much more:
Belts are great, and being titled those things as champions are a great thing and very good on a resume.
Yet, for me, it's bigger….
I'm a fighter, my honor and reputation of being a fighter and someone who fights anyone, is something I value so highly because of its truth.
I didn't have a Mum or Dad running me to training every day, I didn't have a role model to look at or up to. I was brought into fighting at an early age, and not inside the ring. My purpose was all on me.
All I have now and what I have built, is from my desire to fight, my hunger for stability in my life though fighting professionally, and respect when you meet me to know I'm actually a nice and gentle human. My drive and hunger brought me good fortune, which was then topped of successfully and ever thankfully, by people who stuck by me and believed in me to this day, and didn't walk out on me in hard times"
"World champion is great!
Yet…. Being called a humble bloke, a good fighter and nice person, is even better"
#StandTallWalkForward
AK
Thank you to those that support me in my professional fight career, and stand by me.
'Aaron McCurdy Concreting'
'Your Style Rendering'
'JTM Electrical"'
'Bloom Venue'
'Scope Australia'
'Strong lift wear'
'Culture Kings'
'Versatile Windows'
'IL Matto Pizza & Bar'
'Breakwater Shed Cafe'
'Wise Monkey Tattoos''
'Hotondo Homes'
'Spartan Supplements'
Article by Josh Warner