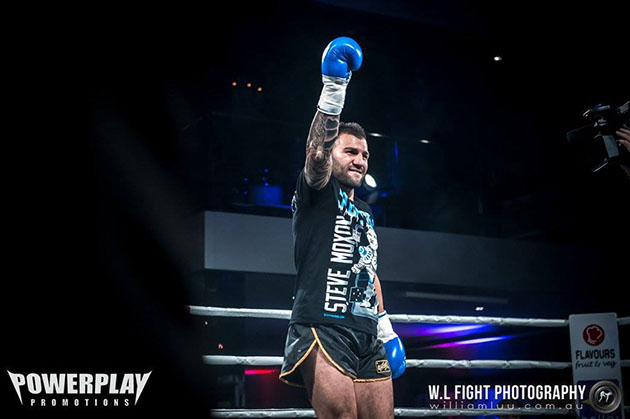 At Powerplay 40 on March 23 two of the very best K1 fighters in the world will battle it out with a World Title on the line! On this faithful evening Steve Moxon will face Aaron Goodson in a bout that has fight of the year written all over it.
A talented athlete, Steve's journey to kickboxing supremacy started in a small country town where he first held a footy and cricket ball long before ever lacing up a pair of gloves. Who would have thought that stepping foot in a tiny gym would lead to a potential hall of fame career?
"I started kickboxing when I was 18 years old out of a small gym in a shed. This was purely to try something different and for fitness. Before that, I didn't do any martial arts. In Ballan where I grew up I played Football and Cricket as that's what everyone did growing up in a small country town"
After only a short period, Steve's hunger for the sport rapidly developed and before he knew it he was sparing and immersing himself in opportunities in which to prove his worth. Training with and competing against some of the best fighters in the world at the time allowed Steve to confirm in his own mind that he was just as good as them and belonged in the land of kickboxing giants:
"When I started kickboxing, the classes were just on each Monday and Wednesday night. I was really enjoying the training and watching the couple of fighters in the gym training extra hard. I began sparring and got beat up every session, but I kept coming back for more. I kept losing weight and was getting better and better each week. I got offered by my coach if I wanted to fight (after just 8 months of training) which I didn't hesitate to say yes!"

"I was a promoters dream as I would bring a whole town of support to each fight. I won my first fight, loved it and kept going from there. After a few fights I realised that the better the opponent, there was an opportunity to make a couple of hundred Dollars. So I wanted to take on the best. I went 16 fights undefeated, with my first loss coming on a Dutch reality TV show that I got selected to fight on and represent Australia in Koh Samui Thailand called Enfusion Fight Series 2010"

"Although I lost the fight against Pasi Lukana from Finland with 75 fights experience, I was on the show and got to witness the best fighters in the world such as K1 Champ Gago Drago, Thai Champ Pugansuk, and Italian champ Armen Petrosian. I realised that these guys are the best fighters in the world, they trained just like me, got nervous just like me and I could hang with the big boys in the fight world"
Every great fighter inevitably has an experienced coach and/or mentor who provides the guiding light and influence required to compete and prosper at the highest level. In Steve's case, relocating to Sydney allowed him to work with one of the biggest icons in Australian combat sports:
"In 2009 I moved to Sydney to further my fight career and train with some of the best fighters in the country such as The Chief Peter Graham. A multiple Heavy weight World Champion of Karate, Kickboxing and MMA, he taught me to take every opportunity, never say no to a fight and to always be professional"
The next chapter in Steve Moxon's story will see him take on Aaron Goodson at 77kg with a World Title on the line. Although quite a bit heavier than what Steve would usually compete, he is comfortable being the 'smaller' fighter and believes his experience and wisdom will assist him to navigate past a very dangerous opponent:
"Aaron is a very good kickboxer, he has great technique and has had a lot of fights. I am a 70kg to 72kg fighter and was the smallest fighter on the world scene behind Mike Zambidis. I have taken this fight at 77kgs against a good fighter in Aaron, but I always believe that I have the knowledge and experience to win"
After an array of impressive finishes, including a one sided drubbing back at Powerplay 39, Aaron is on a genuine tear right now and is rightfully considered one of the hottest prospects in the sport. Well this may be the opinion of some including this writer, however it is definitely not the opinion of Steve Moxon:
"Is he? He is one of the hottest prospects in the North Melbourne Kickboxing scene, that's about all"
Clearly not intimidated nor impressed by his opponent, the wave of momentum Aaron is currently riding is not a consideration to Steve who feels as though he'll find the holes in Aaron's game and exploit them accordingly. So as far as Steve's plan for Aaron goes, his mindset is simple:
"Everyone is hittable!"
Powerplay 40 is now a mere 7 weeks away and as such Steve is in full preparation mode so as to ensure he is in peak physical condition to launch an aggressive attack on his opponent once that bell sounds. Steve relies on familiar surroundings as well as an element of diversity as it applies to his training camps:
"I am training out of my gym that I own in Geelong – The Training Room Geelong, I have some great young fighters in there to help me out. And on weekends I travel to different gyms for some extra training and sparring"
A fighter's corner is a pivotal element of success and as such those people are often trusted advisors, mentors and practitioners able to share wisdom. In Steve's case, he has all of these boxes ticked across the board:
"In my corner will be – My #1 coach, training partner, mentor and mother of our son (Tyson), is my amazing girlfriend Lena. I will have Dave Ashmore in my corner for this fight for his fight mind and he has been by my side when I have fought all over the world on the big shows. I will also have my right hand man at my gym James; who helps me out with pad work, extra conditioning and sparring. He is so fit, so I have to work hard to just keep up each day"
World Title opportunities don't come around every day, and although Steve has been lucky enough to win multiple World Titles along the journey he is buoyed and excited by the prospect of having another strap placed around his waist:
"World titles for me are a great tool to market my gym better and to boost my profile. This adds some more prestige to the already great fight it will be".
Article by Josh Warner