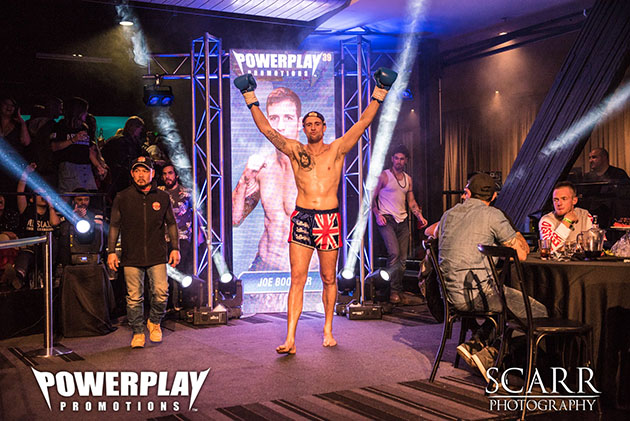 Under some genuinely unexpected circumstances, the clash between Joe Boobyer and Chris Bradford back at Powerplay 39 produced arguably one of the best Full Thai Rules Heavyweight fights this Country has seen. Now, with a full training camp, Joe and Chris are set to lock horns again this time with a World Title on the line.
Joe's journey to this rematch, in fact his journey through martial arts in general is full of trials, tribulations and of course huge amounts of success. Most would not understand nor appreciate how tough it actually is to make it in this sport, and Joe's journey is testament to that:
"I started out boxing at age 14, and was all about that until I hit the age where we'd go out and party at bars and clubs, that cost me about a year but then I got back to training when a friend started MMA and I went along for a session, after a handful of amateur MMA fights and padded stand up fights it was clear I enjoyed striking more! Focusing on Muay Thai and kickboxing I had a few more fights in England before heading off to Thailand in 2011 for a six month training holiday, where I had a string of successful performances and had my first taste of the big stage fighting in a stadium in China in front of thousands of people! After arriving back in England I got a message from one of the guys I met on that trip offering me a sponsorship at a gym he and a friend had taken over, so I flew back and spent the next few years fighting full time. The biggest challenge was always finances; the sport is tough and pays peanuts, especially in Thailand. I lived in the gym with the other fighters and we'd literally be fighting to eat. The benefits of that lifestyle were the solid team we built and the approach to fighting. When you train full time most of your fights will be on a week's notice, and you often don't know who you'll be fighting until you arrive at the stadium. I won a world title at heavyweight in Bangkok which was pretty cool, but even in the local stadium I've fought world champions for 6,000 baht ($260aud). I think my ultimate accomplishment would be winning 11 straight fights with the 11th being for the title in Bangkok, or on a personal note training in Thailand at a gym where Steve Mckinnon was a special guest and I was just a kid training, only to fight him years later. Kind of surreal!"
With much hype pertaining to Chris Bradford's fight at Powerplay 39, his Thai opponent pulled the pin at the last minute and literally on a days notice, Joe stepped up and took the fight. With the utmost respect to Joe, one must ponder why anyone would want to get in the ring with Chris period let alone on a days notice, but from Joe's perspective the answer was simple… fighters fight! Having said that, the months prior to Powerplay 39 were less than ideal:
"It had been a pretty rough couple of months for me! Those who don't know I spent a couple of weeks in jail in Bangkok in a small cell shoulder to shoulder with 121 other people eating boiled cucumber and rice twice a day, so I had a fair amount of uncertainty going forward after that! Back to England to see the family and friends, then the long trip back here to Melbourne. When Demi called and told me they needed somebody I called a couple of friends to see if they were available, they weren't. 'I'm a fighter, and fighters fight' I said to myself."
To put is simply, Joe exhibited 'testicular fortitude' incomparable to most, however when the dust settled, he still had to fight Chris on a days notice. No time for training camps; no time for game plans and no time for mental preparation, however strangely enough the thought of the unknown was not that foreign to Joe:
"I've fought almost all of my career in Asia, where you rarely know your opponent before fight night, you just train to fight, go out and do what you do. I was a scrappy kid too, if somebody started a fight with me in the street I wouldn't try to make a plan of attack, there would just be a fight. That mindset doesn't leave you, if you don't believe you can beat anybody in the world you have no business fighting"
The factors going against Joe were numerous and have been discussed in great detail, but none the less Joe stepped in and literally fought his heart out for 5 of the most entertaining rounds in the sports history. From the commentary position this writer called it the best fight I have called across any martial arts discipline, and I suggest many of the fans in attendance agreed. Upon reflection, Joe enjoyed the 'good ol' scrap:
"It was fun! I fought scrappy and sloppy but it was entertaining, I landed some good shots in the exchanges and went 5 very long rounds haha, felt like the good old days just punching on because you enjoy it"
As Joe mentioned he landed some very clean shots on Chris, as did Chris on Joe. The body shots landed by Chris were on another level and as a result Joe found himself on the canvas on a few occasions. Anyone who has had the infamous pleasure of taking a flush body shot will tell you how badly it hurts, something that is not dissimilar to Joe's experience:
"Ever been hit in the liver? You don't know if you're gonna be sick or sh#t yourself"
Thankfully on that faithful evening Joe did neither! What he did instead was get up and continue to 'punch on' as he so delicately put it. Not a single person in the building would have blamed Joe for staying down given the circumstances at hand, however clearly this is not in Joe's DNA. So why did Joe continue to get up…?
"Just to see if I could! Nah, I've knocked bigger guys out with single shots before, so I always know I'm one shot away from winning, all I have to do is land one clean … that and coach Toohey in my corner screaming at me hahaha"
The 'extra man' in a fighter's corner is often underestimated and underappreciated. Although Joe didn't have a huge amount of direct support on the night as his quick inclusion left him no real ability to get his friends to come along, he won a lot of fans based purely on the heart he demonstrated over 5 rounds. The noise was deafening, and although hurting, Joe was no doubt lifted by the support he received:
"They were awesome! Given I was out drinking beers with my Mrs. the night before, I hadn't sold many tickets so all the support I got was won on the night! The crowd really do make a difference"
The epic contest at Powerplay 39 will forever be etched in history, however now Joe must look ahead to Powerplay 40 where he will again stand opposed to Chis Bradford. This time around however the preparation and planning will be different, hell Joe might even get a few crunches in:
"I hadn't trained in months before the first one and with the circumstances leading up to it I'd been malnourished, unconditioned, then on the pi$s with mates after the Thailand "adventure" was over. I've done a few sit ups this time"
Joe's preparation will occur at one of the premier martial arts gyms in the Country under the guidance genuine Muay Thai royalty. With a gamut of excellent sparring partners and world-class coaches, Joe will no doubt enter the ring on this occasion in the best condition possible:
"I'm training out of Absolute MMA with a strong stable of fighters from 80kg state and national champs/former champs up to 110kg full time pro's. I have some good guys here under the guidance of Toohey, Tao and Simon"
As each day passes, this epic contest gets closer and closer and with that comes an opportunity for redemption. In addition to evening the score, should Joe bring home the chocolates he'll also earn the right to be called a World Champion. Having a title strapped around his waist would be a perfect start to what Joe hopes will be a prosperous year:
"Belts are always cool, now I'm in the process of moving to Australia it's a great way to kick things off!"
Article by Josh Warner