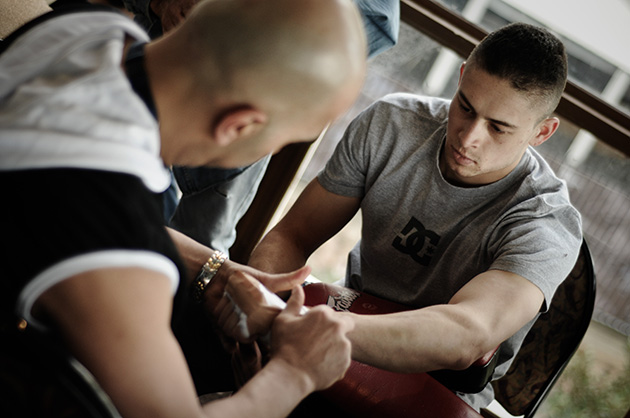 "I WILL GIVE TYSON TURNER THE FIGHT OF HIS LIFE"
At Powerplay 39 on November 24 Aaron Goodson will look to increase his ever broadening KO ratio when he battles the rugged Tyson Turner in a contest that has 'epic' written all over it.
Aaron has marvelled at the sport of martial arts for a majority of his life, an obsession that spawned from his later father. Having been surrounded by legends of the sport for so long, it's no wonder Aaron is dedicating his life to becoming the very best martial artist he can be:
"As a kid I would to go to the gym with my late father he who was a trainer of champions… He trained the likes of Stan 'the man' Longinidis, Sam Greco, Lester Ellis & Joe Nader who I now train under just to name a few. I loved the sport that much every day off I had from school I would be at the gym with my dad watching him train his fighters which led to being around these legends of the sport everyday was my only interest in life to be like them! My father passed away when I was 12 years old and it wasn't until I turned 20 when I knew what I wanted to do with my life! The first gym I went to was Powerplay to train with Joe Nader who I have been with since"
The relationship between a fighter and their trainer will often dictate the heights they are ultimately able to reach. The evolution of this relationship results in the fighter putting their entire trust in their trainer to lead them down the appropriate course to success. In Aaron's case, his relationship with trainer and mentor Joe Nader represents that of a father and son:
"My biggest influence on my career would by far be my trainer & father figure Joe Nader; being with him from a "pup" he has been my guidance to every success & where I am today"
Aaron's time with Joe Nader, the Powerplay gym and Powerplay promotions has led to a huge amount of success; and as importantly it has intricately shaped the man that Aaron is proud to be today:
"Fighting out of Powerplay I have won Victorian, 2 x State, South Pacific, Commonwealth & 2x World titles… Not only have I won multiple titles & be known as a champion I have become a man & most of all a better person"
On November 24 Aaron will look to continue his winning ways when he meets the tough Tyson Turner. Although Aaron is not overly familiar with Tyson, he is very cognisant of the fact that Tyson will bring the fight to the Melbourne Pavilion and Aaron will be all too happy to oblige:
"My next opponent Tyson Turner the only thing I know about this boy he has had 26 fights for 21 wins & from what I have heard he is tuff & is coming to fight which any fighter should so I'm looking forward to a good hard fight. I can & will adapt to what he has to bring November 24th"
As has been the stringent routine for some time now, Aaron will prepare for battle at the Powerplay Gym under the watchful eye of head trainer Joe Nader. Aaron's commitment to his preparation is evident by the amount of time he spends in the gym continually refining his craft and evolving. As a consummate professional, Aaron is also conscious of the role that condition plays in this sport and will prepare to ensure he has cardio for days:
"I am preparing for this fight at Powerplay gym where I prepare for every fight 5 days a week. I go to another gym we call SHOP 1day every Tuesday for my strength training. My key trainers are my main trainer Joe Nader & strength & conditioning coaches Ned Versaljer & Judd Reid"
So as Aaron prepares to enter this fight in which the key strengths of his opponent are somewhat an unknown, Aaron will reply on his own strengths to ensure his hand is raised when this one is all said and done. With that in mind, there are no real surprises at it applies to what Aaron believes will deliver that 'W':
"I feel my key advantages in this fight & every fight will be my leg kicks & strong hands (boxing)"

So in just 6 short weeks Aaron Goodson will enter the Powerplay ring and do exactly what he loves to do. All of the preparation, the hard the work, the blood, sweat and tears will ensure a fit and focussed warrior will put on a show as his continues his path to greatness.
"After all my hard training Powerplay 39 will finish up with another W next to my name & I will give Tyson Turner the fight of his life! Osu"
Article by Josh Warner
Photos by Matt Bottos